The main goals of ALM-PLM integration are to offer ALM and PLM users access to cross-domain traceability without leaving their authoring environment, provide cross-system lifecycle synchronization and integrated monitoring tools.
Polarion Integration for Windchill® is available for
download
on Siemens Support Center.
Contact your Account Owner or Sales Representative for pricing and license questions or the Sales department directly.
Contact our support via Siemens Support Center for technical details and assistance.
Polarion Integration for Windchill® integrates Siemens Polarion ALM software with PTC Windchill® PLM software.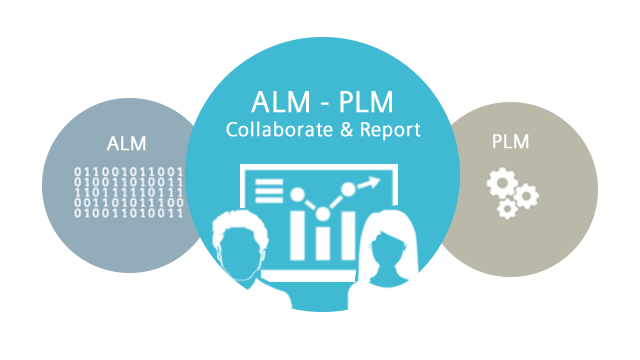 Integration users can link elements across systems and expose the relationships in both ALM and PLM systems. Built-in previews of remote elements are available in both systems so that ALM and PLM users benefit from End-to-End traceability without leaving their preferred working environment.
Extended capabilities dedicated to Requirement Management support Polarion ALM as the main tool for storing, authoring, and reviewing Product Requirements. Complying products are managed in the Windchill® PLM system and can be easily linked to their satisfying requirements in Polarion.
The integration supports PLM-based Change Management processes for both products and requirements. Tasks are tracked in both ALM and PLM environments by orchestrating the Change Management process between environments.
Legal Notices
Polarion is a registered trademark of Polarion AG. Polarion ALM, Polarion REQUIREMENTS, Polarion QA, Polarion PRO, Polarion REVIEWER, and Polarion VARIANTS are trademarks of Polarion AG.
Siemens and the Siemens logo are registered trademarks of Siemens AG. NX, Solid Edge, and Teamcenter are trademarks or registered trademarks of Siemens Product Lifecycle Management Software Inc. or their subsidiaries in the United States and other countries.
Windchill® is a registered trademark of PTC Inc. and/or its Subsidiary Companies.
All other copyrights, trademarks, service marks, and logos are the respective property of their holders.
Windchill® extensions are provided as source code. Each one needs to be compiled at the customer site with customer licenses and then deployed in the target Windchill® environment. Refer to the section "Compilation Prerequisites" of the Documentation "Polarion_Integration_for_Windchill_Documentation_1.0.0.pdf" for details on the compilation process.